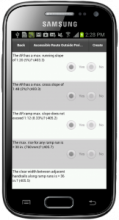 In an effort to help his staff stay on top of regular playground safety inspections, the director of parks at Elk Grove Park District in Illinois decided to provide his team with a playground inspection app. After implementing it, he stated, "[The] park inspection software has streamlined our playground inspections. Staff no longer use paper inspections, and because it's so easy to use it has made it a lot easier for staff to stay organized and keep up with the inspections."
Playground inspections can be time consuming, but they're essential to child safety. The paperwork afterwards? Not so much.
Thanks to technology, there's a way for CPSI professionals to efficiently do their playground inspections while skipping steps like data entry, report writing, filing – all without compromising on public safety or proper reporting.
All it takes is an inspection app on a smartphone or tablet. CPSIs can complete built-in checklists, tap one button to compile data into a report, file it in the cloud, and email it to the necessary contacts.
Inspect municipal parks, roads, facilities, arenas, pools, new construction, and more with CityReporter, an easy-to-use mobile app that works on your tablet or smartphone!  With this robust tool, city inspectors can eliminate their paper mess, improve their safety documentation, reduce data entry, and cut department costs, as well.
Designed with input from industry experts, risk managers, insurance associations, and the International Playground Safety Institute, this app has created efficiencies for thousands of inspectors in local governments across North America.  It's endorsed by government insurance agency MIABC, too.
Read more here.